Welcome
Investing in Lego
What you need to know about making money with your toys.
Investing when you're young is a good idea. The only problem is, finding a place to invest when you're young is difficult. You can't invest on your own because you're under 18. If someone buys you stocks or bonds, it's usually one or two shares and you can't do much to expand the investment. But there is one thing that tends to trend upward, lasts almost forever, and is readily available to you. Legos.
Legos have a larger return on investment than gold. That means you could make more per dollar by buying and building with Legos than you would with gold. That is crazy! Pristine sets have seen an average increase of twelve percent.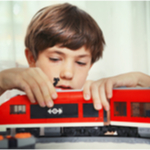 There is a slight catch though. The sets that tend to gain the most in value are the sets that cost the most from the start. Usually sets that started around $70 or more see the highest increase. But don't go throwing away those sets just yet! Even the small sets that came as prizes in your cereal box have value. If you hold on to them long enough, they will only continue to increase.
So what can you do to get the most out of your Lego sets?
Time is probably the most important factor. The secondary Lego market is based on nostalgia. Meaning that older people with regular jobs are looking back at the toys they played with as kids and trying to buy them again. So, if you hang on to your Lego sets and all your friends get rid of them, it's likely some of those friends will be looking to buy them back in 20 years.
Don't play with them. It seems absurd, and it really is. Lego sets are meant to be taken out of the box and built. They are just as much a learning tool as they are a toy. Sure, taking them out of the box is going to reduce their value. But by leaving them in the box you lose the value of all the fun you have building, playing, and learning from your Lego sets. So they won't be worth as much, but playing with your Lego doesn't make them worthless.
Save everything that comes in the box. Even though the instruction books are readily available online having the original book really helps up the value. Keeping all the parts together is also really important, a few missing parts can really reduce the overall value of the set.
Sometimes it's all luck. Every once in awhile, Lego will release a special edition of something, but that something is packaged like every other set or mini-figure. In the case of the Mr. Gold mini-figure, it was in an unmarked mystery box that sold for a few dollars. Now it's worth up to $6,000! So, keep your eye out!
Like any investment you'll make in life, Lego takes time to really pay off. So be patient! Enjoy your toys in the meantime and have fun building!